Gondolas are those one-oared boats that define Venice, and they're at the extreme end of the skills spectrum in this unique city. They also happen to be a thriving business. Gondoliers typically charge tourists 80 to 100 Euros for a 30 minute ride (the Euro is currently worth about 30% more than the Canadian dollar), which explains why Gondoliers routinely pay 37,000 to 50,000 Euros for one new gondola. All gondolas are made of wood, one at a time, configured to suit the particular weight of the person rowing.
Each gondolier owns his own gondola (there are only a few women gondoliers, the first taking to the water in 2009), and when it comes time to make that big purchase, discerning clients call Roberto Tramontin (www.tramontingondole.it).
He runs a small shop that's been in continuous operation in the same location since his grandfather revolutionized gondola design, beginning in 1884. Before I stepped into Tramontin's ancient brick workshop, I thought that the shiny gondolas I'd seen earlier on the water were probably made of fiberglass. They certainly look like that from a distance. In reality, each one is painstakingly made from eight different woods, each chosen for a particular use in a particular location. Oak, fir, cherry, larch, walnut, linden, mahogany and elm parts are made on site, mostly using simple hand and power tools. The biggest machine I saw in the place was an industrial bandsaw for cutting ribs and other thick, curved parts. Tramontin is unique in the city in that he's the last gondola maker to still use the traditional Venetian foot for all construction. Where a standard inch is 2.54 cm, the Venetian inch is 3 cm long.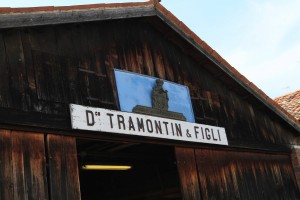 Hand-carved details, multiple coats of paint, and an intentionally asymmetrical body shape are just a few of the interesting technical details I could tell you about gondolas, but something much more fundamental struck me about the blue collar world I discovered here in Venice. While all of Europe takes hands-on craftsmanship more seriously than we do in Canada, Venice is even more extreme than usual. More extreme, yet also economically viable. And while I doubt people in Canada would be willing to pay more than $50,000 for a row boat, perhaps there's a little more room for beautiful impracticality than we think when it comes to Canadian buildings and renovations. I hope so. The streets are clogged here in Venice right now, with people from all over the world coming to see a place that's entirely different from the mass produced environment where they normally live. People are starving for this stuff. Perhaps, with a little salesmanship and the right vision, there's more leeway for Canadian contractors to work some old world, non-standard details into what we build. I can't help but hope that more of this possible for those builders who want to venture beyond ordinary commodity construction.
In my next blog, I'll take you on a virtual tour of what it's like to be a Venetian contractor, right down to swapping your F150 for a 30-foot long work boat.