BUILDWIRE
CertainTeed MemBrain™ receives stamp of approval from the Canadian Construction Materials Centre

Company expects the 'smart' vapour barrier to be part of the 2018 National Building Code
By
canadiancontractor
CertainTeed Membrain™ Continuous Air Barrier and Smart Vapour Retarder has received a positive re-evaluation report from the Canadian Construction Materials Centre for its compliance with the National Building Code (NBC) of Canada. (The full report is available upon request.)
CertainTeed's MemBrain™ is virtually unique on the Canadian market in terms of permeable vapour barrier products. In fact, Senior Marketing Product Manager Marlon Thompson maintains that MemBrain is the world leader in smart vapour barriers. "MemBrain™ fits our climate zones, no matter where you are, even taking into account the differences between central Canada and say, British Columbia." Subsequent to the CCMC report, Thompson expects inclusion in the 2018 National Building Code, which according to Thompson will likely be implemented in 2019 or 2020.
A variable permeable vapour barrier is a critical safeguard against mold and rot in a climate like Canada's. Being cold in the winter and hot in the summer, moisture build-up inside wall cavities is a year-round issue. "MemBrain™ is perfect for exterior walls, particularly basements where ventilation is often reduced," says Thompson.  "There's moisture in concrete, especially with a new-build or renovation, even with exterior rigid insulation for thermal bridging. It has to go somewhere. With poly sheeting, the moisture is going to build up and leak down. If not vented or otherwise allowed to quickly dry or permeate, it might result in mold and rot."
Damon Bennett, well-known home renovation expert and media personality, says, "Whether you're renovating an existing home or building a new one, insulation and vapour barriers are crucial aspects of the project," says Bennett. "As a renovator, I have to assess potential moisture issues inside and around a house before I start a renovation project. This helps me ensure that the homeowner's investment is not lost to moisture damage after the work is completed. I've been using CertainTeed's innovative MemBrain™ Continuous Air Barrier and Smart Vapour Retarder because it assures me that moisture will never be an issue. It only blocks moisture and air, it is designed to help wall cavities breathe and stay dry by allowing the dampness to escape. In the winter, it adapts to humidity levels to prevent vapour from entering the wall cavity, and in summer, it prevents moisture buildup."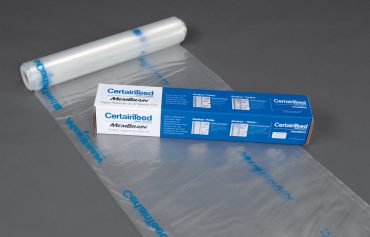 Although a premium product when compared to poly sheeting, in a typical 2500 square foot house, Thompson estimates the additional cost of using MemBrain™ for key areas like the walls in the basement and perhaps bathrooms (roughly 600 square feet) would be about $150 to $200. That's not much to pay for the added protection in focus areas.
CertainTeed MemBrain™ can be ordered through any building supply store and is available off the shelf at Lowe's across Canada in 8 ft., 9 ft. and 10 ft. rolls.