Make it a Construction Christmas for your favourite little one!
Son, daughter, niece or nephew — gifts to inspire the next generation
November 29, 2018
---
By
John Bleasby
Just about every child loves construction, whether it's the job site itself, the sight of big trucks and earth movers, or simply hammering nails into wood. Why not excite the next generation of skilled trades!
Here are some Christmas gift ideas that you can put under the tree or into a stocking to inspire, delight and introduce children to what you do for work.
There's nothing like a good book!
Goodnight, Goodnight, Construction Site
by Sherry Dusky Rinker and Tom Lichenheld
An unabridged board book version of the bestselling, best-beloved hardcover, perfect for small hands! Even the roughest, toughest readers will want to turn off their engines, rest their wheels, and drift to sleep with this sweet and soothing story. Vibrant illustrations and gentle rhyming text make this a sure-fire bedtime favorite for truck-crazy kids everywhere.
CLICK HERE for purchasing details
B Is for Bulldozer
by June Sobel and Melissa Iawi
Get ready for a ride through the alphabet at a busy construction site. There's a big yellow Bulldozer, a tall shiny Crane, and a rusty red Dump truck—and the construction crew is hard at work. But what are they building? Melissa Iwai's bright, bold illustrations are a perfect match to June Sobel's irresistible rhyming text. Join the excitement as the workers build, scoop, and dig their way from A to Z in this sturdy board book.
CLICK HERE for purchasing details
Construction Sites
by Felicity Brooks
For fans of all things that go this noisy alphabet book explores construction equipment from A to Z.  Find out about these construction machines and more, from a huge saw that cuts through roads to a massive vacuum that sucks up boulders. You'll even learn a quick and easy recipe for concrete. Rock crushers, jackhammers, and wrecking balls will delight the youngest of readers learning their ABCs. Jerry Pallotta's trademark humor punctuates the informative text. Vibrant oil paintings bring to life a busy construction site.
CLICK HERE for purchasing details
Building a House
By Byron Barton
Byron Barton, the celebrated creator of numerous picture books for very young children, including Trucks, My Bus, and My Car, builds a house, step by step, right before your eyes!
A machine digs a big hole. A cement mixer pours cement. Carpenters put up walls. Bricklayers, electricians, plumbers, and painters do their part. Through brilliantly simple words and pictures a house is built.
"You can almost do it yourself by carefully noting the steps depicted in each bright, brisk, clearly delineated picture . . . With independently interesting pictures and a definite, sunny personality, a very fine piece of work indeed."—Kirkus Reviews
Named a Notable Book for Children by the American Library Association
CLICK HERE for purchasing details
The Little Blue Digger and the Christmas Tree Paperback
By Harriet Tuppen
 "I'll get the decorations," said Tall Orange, full of excitement. "Be careful!" warned Strong Green. "It's starting to snow."
But unfortunately, Tall Orange does not heed Strong Green's advice. In her haste, she slips on the fresh snow and smashes the Christmas decorations. How will the team decorate their Christmas tree now? And, more importantly, how will Tall Orange's friends react to her clumsiness? In this heartwarming tale, young readers (and their parents!) will be thrilled to see the true Christmas spirit shine through as friendship and forgiveness win the day.
CLICK HERE for purchasing details
Here's a great gift for children ready to imagine and build their own structures…..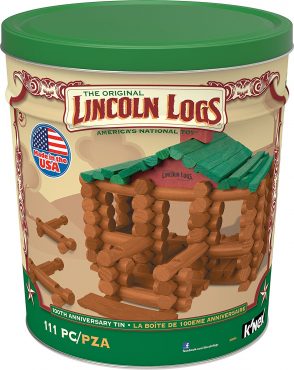 Lincoln Logs
(Suitable for ages 3yrs+)
Invented in 1916 by John Lloyd Wright, the son of architect Frank Lloyd Wright and inspired by one of the original Lincoln Logs builds, the "Meeting House," this 100th Anniversary Tin will evoke nostalgia in older generations and bring happiness to children. The manual offers three building ideas: a tall tower, two small houses with a bonfire, and a large cabin. Children can follow these guides or mix and match to build their own structures.
The package includes 111 pieces made of real, high-quality maple wood. Each has indentations that can be used to connect it with others. Pieces are included for the roof, roof facade, walls, chimney, porch, fences, bonfire, and bonfire seats.
These exquisitely crafted LINCOLN LOGS are beautifully stained, like a true cabin's finish. Each piece is colored with precision and careful attention to detail to evoke the nostalgia of childhood. Most of the log blocks are stained bright brown. The face of the roof is a muted red, and the rooftops are forest-green.
All the pieces can be stored in the set's collectible tin. The features make clean-up easier, as parents can store it in one container, keeping living spaces and children's playing areas tidy and organized. The covered tin can be stored after play time for safe keeping.
CLICK HERE for purchasing details
If your youngsters are a little older (7yrs+), and ready for some hands-on crafting, here are two tool kit, sized and weighted to fit their little hands
Build and Grow 16-Piece Kids Toolbox with Tools
Interact with your child to inspire a love of building and provide the opportunity to grow. Your child will be able to build projects with you safely and easily using tools that are just their size. The kit includes: Leather gloves, Square, Pencils, Pencil sharpener, 10-in Ruler, Apron, Safety glasses, 3/4-in Clamps, Slip-joint pliers, Screwdrivers, 4-oz Claw hammer, and 5-ft Tape measure.
CLICK HERE for purchasing details
CRAFTSMAN 8-Piece Kid's Tool Kit

Packaged in a durable bag with carrying strap and pocket for easy tool storage, this 8-Piece tool kit includes the essential tools for daily life. The soft-grip design fits hand comfortably. The kit includes: 6-in Slip-Joint Pliers, 6-in Adjustable Wrench, 5-in Safety Scissors, 12-ft Tape Measure, Safety Glasses, 2-Piece Screwdriver Set (1/4-in x 4-in & PH2 x 4-in), and a 8-oz Stubby Claw Hammer.
CLICK HERE for purchasing details
Got feedback? Make your opinion count by using the comment section below,
or by sending an email to:
JBleasby@canadiancontractor.ca
Follow John on Instagram and on Twitter for notifications about his latest posts