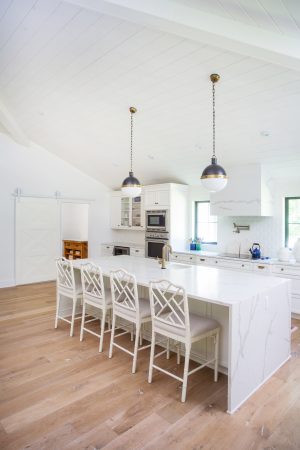 Drew Coulson has designed and built an award-winning project nearly every year for the past 15 years…from his local Windsor-Essex Homebuilder's Association. On June 20 Coulson claimed his first national top prize at the Canadian Home Builder's Association National Awards for Housing Excellence.
In the "Whole Home Renovations from $500,001 – $1 million" category, Coulson Design Build hooked the win for its "French Country Makeover" in LaSalle, Ont.
Coulson says, "I'm constantly trying to improve, I'm competitive in nature. I just want to be better than everybody else. I know I'm not making the NHL anymore. I don't think this attitude is harmful to anyone, it just makes everything better and sometimes more headaches for me."
Q. How did the French Country Makeover come about?
A. The clients reached out to us about a year prior. We worked through the design phase, meeting often and designing a Prairie style/Frank Lloyd Wright initially. Then they wanted to go more modern with bigger overhangs and a higher pitch roof. We transferred those ideas into more of a French Country because that was their passion in the end.
The owners and I worked well together which made it easy to troubleshoot the design part of it and control budgeting. They had a growing family and were interested in open concept spaces, so we blew out the walls and ceiling to have a soaring feel inside the home. We landed with a French Country look on the outside and a rustic-chic on the inside.
Q. It's a very big renovation. What did you have to start with?
A. It was beyond belief. It looked like an old school on the outside, with a flat roof. It had a very sixties vibe inside: the mahogany panelling, blue suede walls, red shag carpeting, linoleum floors, aluminum windows, orange bricks, and a mustard-coloured aluminum band that ran the length of the entire property. A lot of old and dated construction that needed to be freshened up, but it was well-built. It had the bones there to develop the desired end result.
Q. What were some of the main challenges on the build?
A. The existing footprint was tricky because there was so much of a footprint. The home was almost bigger than they needed. Also, the roof system – it was a very high-pitched roof – so we designed a three-tier roof system to vault the hips. The spans were quite long, so we built using engineered girder beams, and laminated trusses. Going from 10 feet off the ground to 40 feet off the ground was not the easiest.
Salvaging the existing structure was also demanding. The roof was very old, two inches thick, cutting membrane after membrane. A lot of old dirty material to work through.
Creating that old charm isn't always that easy or cost-effective. We finessed a lot of floor-to-ceiling tiles. The tilers sourced more affordable materials so they could spend more time creating custom designs, using a variety of patterns, or smaller, quartz tiles. Each room is quite unique in that regard.
Q. Sounds nice. What are some materials and design features you are proud of on this build?
A. The interior core of the home is a soaring hip roof with shiplap and beams all sprayed white, giving it that rustic-chic look. We carried some of this look into the office and included tall windows in there. As we move away from the open concept, softer colours and earthy tones change the feel of the other rooms.
We sourced wood flooring from out east and had it shipped from one port to another. It had a lighter tone so it tied in well with the vaulted ceilings. Our stone was locally sourced. We did a cedar shake feature in the living room. We only use West Coast cedar because it's just so much better.
We helped promote Delta faucets in this house, which was great because the homeowner was looking for savings wherever possible.
The custom front entry door was a heavyweight. It's a big wrought iron and steel door that was injected with insulation and fabricated in the States. That was interesting to square up with our Ontario Building Code.
Q. How is your relationship with your local building officials?
A. It's great. I thrive on continuing my education with building officials. They are an asset to discuss new technologies, and newer, better ways of doing things. Essex County has great inspectors that will talk with you and go through that education together. If you want those better tricks of the trade then that's what you gotta do: fill your brain with good deeds. But not everybody wants to do that. Most guys just want to go out there, build a house, collect the cheque, see you later. I don't mind the other stuff.
Q. What is your company like?
A. There's six of us full time. Our in-house employees are fantastic and our sub-contractors are the ones that make us look good. We're a small family business; I've got my brother working with me, my nephew and my best friend and it's been like that for many years. It's a small, trustworthy business, where we're loyal to our trades and vice versa for 15-20 years.
We do about 20 projects a year. We build homes that are 8,000 square feet, and we build homes that are 1,000 square feet. If they want our quality, we'll build it. The same quality, the same passion, has to go into every project whether they're large makeovers or custom homes. That keeps it interesting. Construction can be somewhat repetitive. People here complain about the weather 24/7, but we work 12 months a year, we don't take time off, and I don't lay guys off. Never have, never want to.
Q. How did you get started in the business?
A. I went to school for architecture but didn't finish my degree. I worked for a firm for three years in Windsor and then three years in the States. I took on two freelance jobs and offered both clients the option of building. They said "Yes," and I said, "Uh-oh." So, I was stuck in a pickle and I met with the boss and he gave me his blessing. He said, "Hey, I think you're cut out for it and you can make it work." I left the firm within the week.
I worked at my first lumber yard when I was 15. And you get that smell on you, you know? The smell of the wood, of the trim, and all the building equipment, so I kind of knew. I worked all through high school for a construction company doing forms and framing and general labour work. You name it.
Q. Does winning building prizes gain you clients? Did you know this renovation was a prize-winner as you worked on it?
A. I met with a client last week and they mentioned the awards. They said, "I want to have my home built by an award-winning builder." And that was great to hear.
I go into every home like it has to be better than the other guys. It's like a competition. At the end of the day, you want this to be the best renovation you've ever done. I do think of the awards category for every home and I want that, rather than just slapping things up and trying to cash in on the economy. I think that's wrong. But if we build and make it look stellar and compete against each other for these coveted awards, it makes us all better. I'm not saying I'm better than the rest – there's a lot of great builders out there.
Moving forward, I'm going to keep doing the same thing. This area can be very judgemental and very small, and some people don't want to see you do well. It's a weird smalltown mentality.
I've built up that reputation over the years. We don't skimp on stuff, we strive for quality, time is never our strong suit, our pricing is very competitive, and we're very fair. I have a strong passion for making good products.
Q. What's next for Coulson Design?
A. I love building with wood and constructing a five or six story wood building is kind of intriguing to me. I've had an opportunity to talk with people about this in a preliminary way, and I'd love to do it tomorrow, but it's not the case. The money's not there yet.
We're converting a small church in Amherstburg into an Airbnb right now – this area is hurting for accommodations. I bought it with a partner friend of mine. It's a historic little white church that's been a staple here for 100 years. It's a balloon frame. We're preserving the exterior and dividing the interior into eight squares and uniquely designing each room. It's been about a year and a half, but it feels like forever. We keep adding more, more, more, breaking the bank a little, but I have to do it right.
---
Print this page
---
1 Comment » for Creative eye: The daring French Country makeover by Coulson Design Build