Creative Eye: The Winning Crescent
February 12, 2021
By Gordon Wornoff
Maric Homes discusses taking the gold for Creemans Crescent.
February 12, 2021
---
By Gordon Wornoff
For nearly 50 years and over two generations, the Maric Homes team has built hundreds of homes in the Winnipeg area. In the fall of 2020, Maric Homes scooped a Gold Award for their project at 116 Creemans Crescent in West Winnipeg. The award came from The Manitoba Homebuilders' Association who organize a "Parade of Homes" twice a year in Winnipeg. Maric Homes' president, Dan Rolfe, and Peri Maric, vice-president of architecture and design, discuss their win and what it takes to earn the prize.
How did this project come about? What was the inspiration? What are some of the features?
This home is 2,260 square feet. It's on a corner lot, which is great. We try to build homes that complement the landscape.
In terms of design, we're progressive. We try to stay on the cutting edge. But we also add that accent that harkens back to something that everyone can understand and recognize.
In Manitoba, there's a gigantic cottage country population; every other person has somewhere to go. There are thousands of lakes and everyone goes off to the cottage on the weekend. A very familiar architectural style you see in the Interlake and Whiteshell regions are these A-frame houses or slightly raised gable houses with rake windows that match the gable and the roof lines: angled architectural windows, centrally located, usually.
We did a modern twist on that look. We did these huge gables with big windows that match the rake. We modernized it by including a flat roof detail that added some horizontal inspiration into the design. Also, we placed the rake windows off-centre. By including some asymmetry, we've added some visual interest. The raw shape of the building looks like the cabin you would have gone to in 1975. That was the initial concept with the house.
We vaulted the ceilings on the inside, just like you'd see at a place up in Falcon Lake or Grand Beach. It's a nice edge to reference a historical building style. But you don't want to have it look dated. Like the board and batten for instance – it's a very common cladding system that's been around for a century. So we used it, but painted it black so it has this deep, rich, heavy presence on the street. And we combined it with brick, another very traditional building material, in a very traditional brick colour – that kind of rusty brown. The exterior has this traditional look, placed in a modern fashion, and it looked really cool. We were really happy with how it turned out.
One interesting interior product we've included in this house is microcement. It's a very, very thin cement product, about five to seven millimetres thick. You can see it in the bathrooms and on the fireplace.
Your award comes from the MHBA's Parade of Homes. Can you describe the Parade?
It's been going on for 30 years. When a new development is being built in the Winnipeg area, clusters of building lots at the entrance are set aside for registered homebuilders to put up
display homes.
The Parade of Homes happens each spring and fall and allows for customers to walk through 100 to 150 homes built by roughly 30 builders. The great thing about the Winnipeg market is that it's a 20-minute city. I can access the city's north, south, east, and west ends by the ring road and see tons of displays.
It gets a ton of traffic, the fall being more active than the spring, but we might get 400 to 500 people through there on a Saturday.
There are times where we'll have one or two homes in the Parade of Homes, and upwards of six or seven in other years. Sometimes we'll run a home through one cycle of the spring and fall and then into the spring again. It all depends. If we're selling five or six or 10 houses inside a development, it can make financial sense to leave these display homes open for a year or even two to generate business and then sell it. We can certainly say it pays for itself.
Opening day for the Parade of Homes is huge. There's been so much promotion about it. The communities all know where the show-home strips are. The residents know. People have been following your Instagram stories. They all know there's a new building display. Anticipation gets built. There's a lot of upfront promotion and we're all there every year on opening day at
noon. It never fails. All these people come out. They've gotta get the first glimpse; it's such a cool thing.
Every builder puts their best foot forward and is excited to show off the latest and trendiest materials and designs. On opening day, we've got our full team there, with a support team of real estate staff.
Is there a big squeeze on subtrades in the weeks before the Parade of Homes?
Absolutely. There's only so many resources in our city. We have our trade sets that work for us. We try to keep them very busy. Otherwise, certainly they'd get headhunted, no doubt about it.
Certainly in the weeks before the opening of the Parade of Homes, there's not a subtrade or builder that's getting any sleep. It's really chaotic, you're pressing to get everything completely
perfect on five houses that need to open that day. These houses are fully landscaped, furnished, interior décor is spotless. It's quite the show.
It's fun to see all the builders in the weeks before working like crazy. We're out there at 3 am pressure washing driveways, and not just employees. Everyone's spouses, I'll take anybody.
I have a seven-year-old and she helped carry magazines and newspapers and it helps a lot. It's great.
Wow, the Parade of Homes sounds like a big part of Winnipeg's home building business cycle.
Yeah, absolutely. 100 percent. It's huge. And it's not only us. I would suggest we almost have the busiest and most competitive markets per capita across Canada. Especially for the
demographic.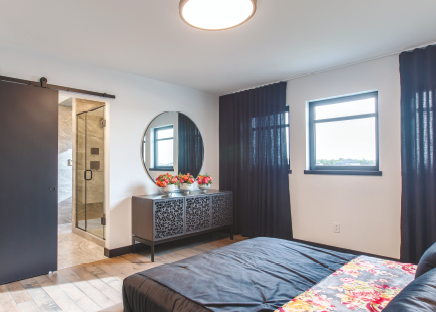 But that's one of the things that keeps us motivated. That keeps the fuel burning inside of us. To continue to work at the highest level that we do. It's a very competitive marketplace in Winnipeg. We talk about this all the time. Being the small demographic that it is, being the healthy market that it is – our competition is in our face. And we're in the face of all the competition as well. There's a lot of builders that aspire to what we do. But we can't build every house in Winnipeg – we're not made for that. But when it comes to attracting the right type of customer and building the houses that we like to build – there's stiff competition.
Do competing builders research each other's products?
We are proud of our position. We've been in business for 50 years. We're one of the leaders in our industry and there are a lot of followers. We see a lot of designers coming through. We see a lot of people coming through, looking for ideas and that's a feather in our cap.
If the competition wants to crawl into your pocket to see what's going on, well, we're proud to be that builder who others measure themselves against.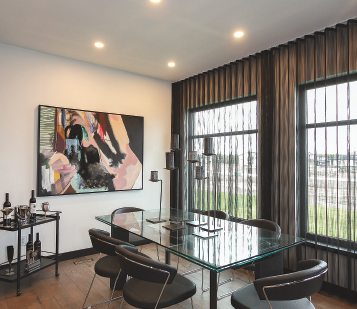 But we're all chasing some type of bar. The Maric ownership group tries to go on a retreat once a year, or every couple. We do home tours, whether it's in Las Vegas, Kelowna, Scottsdale, Toronto. We go and see what other people are building around the continent. And we go and take note of particular details, craftsmanship and materials. We try to get a really broad sense of where we stand with the product we're putting out.
We try to be aspirational. We keep our sights set in Manitoba, but measure ourselves outside of it. It helps us continue to grow and to be a leader.
What is the business footprint of Maric Homes? What's the backend like?
Currently we have 18 employees. And that includes both our new home luxury team and our renovation team. There is a second-generation ownership group – the kids and families of the original founder took over 11 years ago. The founders are passive owners with a smaller minority stake and the second generation ownership group has the vast majority of shares.
Ever since that transition happened 11 years ago, we've been steadily growing the business and a lot of that new growth is coming from our renovation division. The last three to four years we've been focusing on that – really turning it into a business. We put up 20 to 30 custom homes each year. We also usually have about 15 large renovations ongoing.
I'm sure you've heard many horror stories about family businesses but we're happy to buck that. We're a really close team. It's a great place to work and we're all lucky in that regard.