Dave Gray
Virtual construction using 3D technology
Renovation Contractor
3D technology enables landscapers and homebuilders to show off the finished project, long before the first shovel goes in the ground – and while it's still covered in snow
One of the biggest challenges I have as a landscape designer is communicating my vision of a space to my clients. Hand drawing, while absolutely an art form, is very difficult to make significant changes to. If I spend hours doing a drawing and a client doesn't agree with some of my fundamental ideas, I may have to redo everything. I spent a lot of hours learning a design software system, which allows me to show my designs in a 2D format. This process is perfect for fast design by using existing images, making changes for clients, and then saving the entire project online. While this was a great process for me in streamlining the system, computer generated designs became a sterile or homogenized version of what was once a real art form. For a long time, I had to justify to clients why I wasn't hand-drawing my designs as they compared my work to other established landscape designers and architects.
Eventually the technology to add colour and real life pictures to my landscape designs allowed me to better communicate my ideas for a space. Having colour in the trees, plants, and even the grass gives the customer the impact that they are hoping for in their dream spaces. Add pictures of real plants, patio furniture, and fireplaces to the design and my customers can close their eyes and see the major features of a garden that I am trying to communicate to them.
3D technology has now taken this to a whole new level! In 3D, I can start to show how the height of the individual elements start to relate to each other. The 3D model allows the designers to put in people, pergolas, privacy screens, and structures. They also enable a customer to look at the garden from different angles through the use of a computer or a tablet. I can take my clients into their yards and walk them through the design as it pertains to each location they choose to stand in. Unfortunately, most of my design meetings happen in the late winter/early spring when its terrible outside and clients prefer to stay indoors or to meet in my design office.
We finally have a solution that takes landscape design to a whole new level! Software and technology have combined to create a landscape software that works with virtual reality goggles so that no matter where you are standing, you can see your backyard in crystal clear 3D. These images are so lifelike that they even include people swimming in your un-built pool or breezes blowing through trees that haven't been planted yet. Whether its snowing or raining outside, clients can feel like they are in their new backyard without even leaving the living room. As a visual person, this lets me give them a full understanding of what I see for their space. I can even show how things like privacy panels and strategic plantings make neighbours disappear.
Makes you wonder what is next? Possibly a virtual backyard complete with plants, patios, and even birds that you can slip into whenever you want by putting on a pair of goggles. Maybe technology means the end of the real deal… but for now you'll have to wait until spring to get outside and putter in the yard.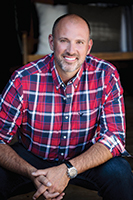 By Carson Arthur, carsonarthur.com