canadiancontractor
Making homes safe, comforable and healthy with Owens Corning's FOAMULAR XPS RadonBARRIER
Canadian Contractor
Resources
Sponsored by
Owens Corning
Owens Corning, manufacturer of PINK® FIBERGLAS® Insulation and other
energy-saving products, launched its new CCMC certified FOAMULAR® XPS RadonBARRIER™ in April 2022 to help make homes safe, comfortable and provide healthy living spaces.
According to a Toronto Star article published May 2, 2021, radon is the second leading cause of cancer, after cigarette smoking. Radon is a radioactive gas that is odourless, colourless, and tasteless. Often referred to as the silent killer. About one in five homes — 5,600 of the 30,000 tested nationwide¹ — showed radon levels exceeding Health Canada's guideline of 200 becquerels per cubic metre (Bq/m³), according to data gathered by researchers from the University of Calgary conducting this investigation.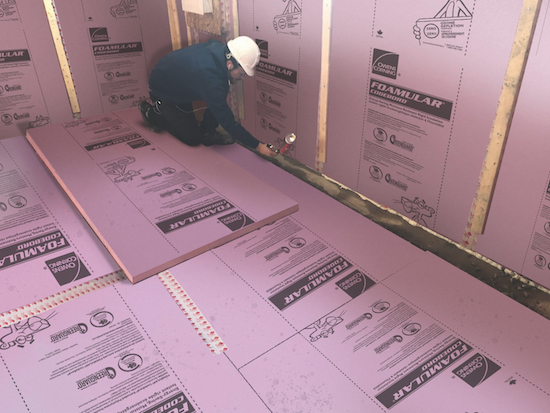 It comes from the natural breakdown of uranium found in sediment (soil), rocks, and water. When radon is released from the ground into the outdoor air, it is diluted and is not a concern. However, in enclosed spaces like homes, it can sometimes accumulate to high levels, which can create a health risk. The air pressure inside a dwelling is usually lower than in the soil surrounding the foundation. This difference in pressure draws air and other gases, including radon, from the soil. Radon can enter homes through cracks in foundations, construction joints, gaps around pipes, sump pumps and drains, etc.
HEALTH CANADA RECENTLY ANNOUNCED A LOWERING OF THE CANADIAN GUIDELINE FOR INDOOR EXPOSURE TO RADON. THIS REDUCTION WAS THE RESULT OF NEW INFORMATION THAT INDICATES THE HEALTH RISK OF RADON-INDUCED LUNG CANCER OCCURS AT LOWER LEVELS OF EXPOSURE THAN PREVIOUSLY THOUGHT.
"The innovative Owens Corning radon barrier system is a smart choice in new construction. It helps protect the homeowner from radon gas entry and helps create the ultimate lower living space — providing comfort, indoor air quality, and most importantly, a safer living area," said Sal Ciarlo, technical services and codes & standards director.
When building a new house, homeowners should ask themselves these questions to protect their family from radon gas. "Do we plan to use the basement as a home office or living space? Do we want extra protection from radon? And can our builder provide the Owens Corning® RadonBARRIER™ under our concrete slab?"
In choosing the Owens Corning® RadonBARRIER™ as a principal component of a radon abatement system, one can be assured of a durable solution which is certified by CCMC for long-term performance². A solution that provides improved indoor air quality for the home and a comfortable basement, ideal for working from home or spending more time with the family, with the proven performance of Owens Corning insulation products. And equally important the security of a limited lifetime warranty for thermal resistance and an added sense of comfort knowing your family is more secure in a healthier, safer and energy efficient environment³.
---
¹Toronto Star May 2, 2021 re University of Calgary research.
²NRCAN Radon Abatement Test Report No. A1-020145, October 20, 2021. Owens Corning FOAMULAR® CodeBord® with taped or sealed joints is 36X greater than 6 mil. polyethylene as a radon barrier material.
³Compared to Radon exposure.