Regina Gadacz
Thinking outside the box – Five exterior trends that your clients will fall in love with
Renovation Contractor
Delight your clients by showcasing these trends that are ramping up curb appeal and creating spaces that are uniquely their own.
An exterior facelift can dramatically transform the feeling of the entire home. The days of the cookie cutter subdivision homes are quickly becoming a thing of the past. Exteriors present an opportunity for builders to highlight their creativity through textures, colours, and materials. The designs of tomorrow are anything but boring. Delight your clients by showcasing these trends that are ramping up curb appeal and creating spaces that are uniquely their own.
The new neutral
Does the word neutral have you stifling a yawn? Don't worry. The world has finally woken up and said a huge goodbye to boring beige. Today's neutrals are far from subdued. Instead, they are about creating an emotional and aesthetically pleasing experience. Once seen as accent colours, greys and blues are moving to the forefront. These colours beautifully complement a natural landscape, while also evoking a feeling of warmth and comfort. Classic white is also having a comeback. But this time, it is enhanced with an eye-catching, dramatic black trim. This expanded colour scheme makes it easy for homeowners to create a place that is uniquely their own without being overly dramatic or garish. However; they are looking for the builder's eye and expertise to help determine the colour scheme that is the right fit for their home.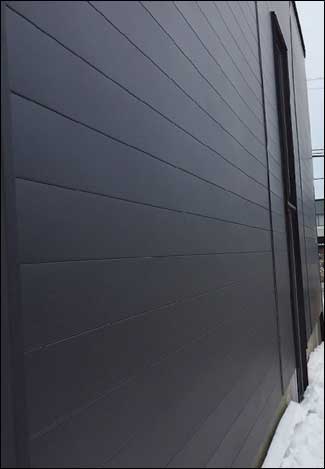 Add depth to your exterior through textures
Changing the façade of the home is one of the easiest ways to create a complete transformation. Whether it's using contrasting gloss levels of the same material or self-patterned siding, the textured look is on trend. Builders can aid clients with their decision by highlighting the variety of materials that are available and each of their benefits. At the same time, they can showcase their own originality by creating depth with contrasting materials or using textures to ramp up the eye-catching appeal. Materials, like aluminium, are an extremely versatile, durable product that can be used either as an accent or for the complete exterior.
A conscious choice
Colour is not the only way that homeowners are making their mark on their space. They are actively seeking products constructed in a way that they can feel good about. An increasing number of homeowners are recognizing the value in aluminium siding – both from an environmental standpoint and an aesthetic one. When offering materials to your clients, seek out companies who have a strong waste management program and integrate sustainability as part of their values. This includes showcasing companies that use recycled and reused materials and are actively implementing strategies to reduce their overall environmental impact. Products such as high-tensile aluminium siding, offer strength, durability, and the sustainability values that today's homeowners are seeking.
Making their own mark
Once restricted to home interiors, clients are awakening to the possibilities in exterior customization. Homeowners are using these spaces to showcase their personality and tell the story of their families. Help your customers make an amazing first impression by designing a home that is uniquely theirs. The beauty of personalization is that there truly are no rules. Integrate products such as modern aluminium siding into a home to highlight focal points with an updated, clean look. Amp up the wow factor with dark on dark colour schemes or bring in the look of wood for the client that wants that cabin getaway without the upkeep of natural wood. The beauty of this trend is that it allows builders to exercise their creativity; crafting exteriors that will truly wow and delight your customer.
Thinking outside the home
Homeowners are increasingly excited about the possibilities of exterior design. Workshops, she sheds, man caves, and garages are no longer an afterthought. Homeowners are actively integrating these structures into their exterior design to create a seamless look. On the flip side, their smaller footprint provides an opportunity to explore new design elements and higher price point items. Builders can spark the homeowner's creativity by showcasing ways to elevate these exteriors spaces. This serves as an opportunity to bring forward high-end design pieces, dramatic colours and variances in texture to truly bring these spaces to life. Whether it's giving an entire home a facelift or enhancing a home through accent pieces, homeowners are paying attention to exterior designs. Builders can easily elevate the curb appeal of the home by varying materials, playing with colour schemes, or using innovative materials to draw focus to unique elements of the home. The current trends present an opportunity for builders to bring the personality of the homeowner forward. The end result: exterior spaces that are creative, innovative, and enhance the overall homeowner experience.
| | |
| --- | --- |
| | Diana Sousa is the product consultant and marketing director for Kaycan Exterior Siding Solutions. |
---