Mitigating sound inside today's homes
Fashionable hard flooring proves a challenge for quiet and privacy
February 7, 2019
---
By
John Bleasby
If shag carpet was still popular, this post would be unnecessary — all sound between rooms and floors would be successfully muffled. However, hard floor surfaces currently so popular are making privacy and quiet a challenge in today's new homes and renovations alike.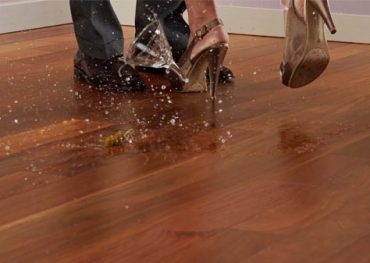 Impact Sound is a challenge largely because the marketplace is confusing for those learning their way around. Rob Dyba's presentation at the recent Building Show in Toronto was a great primer for those wishing to better understand the science behind impact sound mitigation. Dyba is Regional Sales Manager of nVent of Richmond, B.C.
For starters, Dyba pointed out that, interestingly, wood does a better job at reducing sound than concrete, due primarily to its natural resiliency. However, it is easy for consumers and builders alike to become confused with the Impact Insulation Class (IIC) ratings of various products, particularly aggressively marketed sound membrane products. Therefore, Dyba suggested that it is important to understand the meaning of the term Delta IIC (∆ IIC).
Understanding the Deltas
Delta IIC indicates the amount of improvement certain products add to the floor assembly in terms of isolating impact footfall noise, Dyba said. It's essentially the measurement between two tests; one conducted on an finished surface installed directly on the sub-floor, and the second test incorporating some form of underlay or membrane material between sub-floor and finished floor. This separation of sub-floor-to-finished floor is termed the "uncoupling" of surface materials. Delta IIC is the best rating to consider when comparing the performance of underlay types, Dyba explained. It keeps manufacturers from promoting misleading results based on materials or methods of isolation that do not represent the average floor assembly. Therefore, he cautions that installers should look for "real life test results" of Delta IIC ratings of sound membranes, a number such as ∆10, not "field results". He also pointed out that doubling a sound control layer does not result in double the ∆IIC result!
"Be aware of the 'Numbers Game'," Dyba continued, "products marketed with STC and IIC values in the high 60's or low 70's, and products marketed based on 'superior performance' over specific frequencies. Don't be persuaded by claims that may not be substantiated by scientific evidence."
Think in terms of floor assemblies, not just individual components
What really influences the IIC rating of a floor assembly is the material laid on top of the sub-floor.
For example, a ceramic or marble floor installed straight over a wood sub-floor delivers an IIC 40; vinyl or wood straight over the sub-floor deliver an IIC 47. However, separate the hardwood flooring, for example, from the sub-floor with strapping and one-inch mineral board, and the rating increases to between IIC 55 to IIC 58.
By the way, and in support of wall-to-wall shag, carpeting with an underpad laid over top a sub-floor delivers an IIC rating between 75 and 85! Bring back the '70's!
What about ceramic and marble? After all, tiling is used in many kitchens, bathrooms and hallways, and often in entertainment areas as well. The solution, according to Dyba, is to use a whole-floor assembly approach, comprising gypsum concrete board (to reduce floor flexing, the enemy of tiles), plywood, and a sound underlay under the tile and over the sub-floor. In addition, the joist space between the floor and the ceiling below should be filled with R20 fiberglass insulation, and ceiling installed over ½-inch resilient channels (see diagram). It's a complex assembly. However it's the recommended method for successful sound mitigation between floors.
In conclusion, Dyba reinforced his point that not all floor surfaces and components deliver the same impact sound improvements. It's important that all components of the floor assembly be examined to in order to assess their contribution. Likewise, the design of the floor assembly can have as much impact on improving the end result as any individual components.
Got feedback? Make your opinion count by using the comment section below,
or by sending an email to:
JBleasby@canadiancontractor.ca
Follow John on Instagram and on Twitter for notifications about his latest posts