Dave Gray
Kohler Konnects Everything
Renovation Contractor
Using the Internet of Things to enhance the cooking, cleaning, and bathing experience
For those of us who grew up watching shows (depending on your current age-bracket) from The Jetsons and Futurama to the various Star Trek series, many of the technological innovations those programs featured truly seemed like futuristic sci-fi concepts.
But we need to look no further than our pockets or purses to pull out a device that allows us to make phone calls, video conference with friends and colleagues, snap high-resolution photos, and access a limitless encyclopaedia of knowledge.
In this age of the "Internet of things," many companies are extending connected technology to a broad range of everyday household items.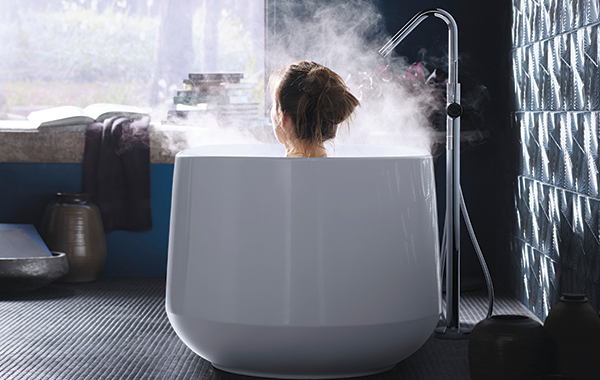 And when it comes to kitchen and bathroom products, Kohler is at the forefront of connecting everything. "Voice services and connected devices have become integrated into every facet of the home – with the notable exception of the bathroom, until now," says David Kohler, President and CEO of Kohler Co.
Take, for example, the company's Numi toilet. This space-age commode has NASA-worthy technology built in, including an automated lid, heated seat and foot warmer, built-in wireless speakers, and Bluetooth-connected synching that allows you to verbally call up your favourite song or playlist from Amazon's Alexa. The toilet also has a built-in bidet, with pre-programmable settings for various family members.
If a Numi toilet (at a list price of $11,090) is out of the budget, you can still have a shockproof experience with Kohler's PureWarmth seat with built-in lighting. The temperature settings are adjustable and, like a programmable thermostat, can be pre-set to turn off during the day while you're out.
Live out your own Sleeping Beauty fantasies with a Verdera Voice-Lighted mirror, mirror on the wall. As the name suggests, this voice-activated vanity mirror comes with Amazon Alexa embedded, meaning you can control the lights, check the weather report, and even add toothpaste to your grocery list via audible commands. You can also control the functions via an app, and there's even a motion-activated nightlight. The 33"-high mirror, which was selected as a CES 2018 Innovation Awards Honoree in January, comes in three different widths: 24", 34", and 40".
Feel like having a restorative bath? With Verdera PerfectFill you simply tell the tub you'd like to have a bath and it will start running your pre-set desired temperature, and shut off when it reaches the level you like. With the Kohler app, you don't even have to be in the room to get things flowing.
Prefer to sing in the shower? With the DTV+ voice-activated shower system you can call up your personal pre-set water temperature and pressure preferences, then start your private karaoke session with music streaming from the integrated speakers. There's also a waterproof keypad for making adjustments to the system.
Hygiene is a major concern in many households. You can eliminate one area of concern with a Touchless Response toilet that has a hands-free sensor built into the lever handle. It even has an integrated nightlight with adjustable colour and brightness settings so there's no fumbling around in the dark.
In the kitchen, the Sensate faucet with KOHLER Konnect can be operated via motion or voice-control. You can verbally turn the faucet on and off, or request measured amounts of water flow. The integrated KOHLER Konnect app monitors water usage and can alert you if unusual usage is detected, such as a faucet accidentally left running.
From voice-activated fixtures, to timesaving and hygienic kitchen and bathroom products, Kohler truly is at the cutting edge of connected design.