John Bleasby
7 Christmas gifts for the builder in your life!
Canadian Contractor
Whether it's under the tree or stuffed in a stocking, there's something for everyone
It's important to let your team know how important they are to your company's success a this time of year. Sure, a bottle might be nice, and a party too. But a personal gift is something special.
Canadian Contractor offers some gift ideas that cover the whole spectrum of the home building and renovation industry. There's still time to make the December 25th deadline!
Cowboy styled Hard Hat
Let your subs know there's a new site-super in town! Featuring 6-point deluxe nylon squeeze-lock suspension, front cotton terry sweatband and extra wide brim provides more UV protection. This hat meets ANSI Z89.1 Type 1, class E & G, and is available in various colours.
From US$26.50
Cookie comfort
At this time of year, you can never go wrong with a food-related gift, so try out these construction-themed cookies. Marketplaces like Etsy feature multiple vendors selling these treats, and they have the benefit of coming as close to homemade as you're going to find without doing it yourself. Since these online bakeshops are often solo operations, make sure to order in time for holiday delivery.
Stress Release Hammer
Everyone needs one of these to hammer out solutions on those days when nothing goes right. Beats using the real thing!
US$2.49 each
Carpenter Bottle Caddy
At the end of each working day, this guy is the most popular sight on the site! Each carpenter bottle caddy is designed by an American artist and then meticulously hand welded from recycled steel and copper by dedicated European craftsmen. The result is a truly unique piece of art.
US $84.28 each (discounts available for 5 or more)
DeWalt 8-in-1 and 16-in-1 tool gift set
Packaged as a paired set, each multi-task tool features a rubber ergonomic grip, easy-opening operation and DeWalt's bright yellow durable case. A multitude of pliers, drivers, openers and knives on each tool, with a large ring opening for hangin on a belt or chain.
MSR of CDN$44.98 for the set (but often sells for less at many outlets)
Proceed with caution…chocolate a-head!
How about a hard hat piled high with one dozen chocolate chip cookies and 6- 2 oz. chocolate themed construction pieces, like screw drivers and wrenches! This gift is wrapped in cello and tied with a beautiful caution ribbon.
US$39.99
Hey Baby!
Made-to-order crocheted, acrylic yarn baby work boots would look good on any up-and-coming 'trades-baby',  or even hanging from the rear view mirror.
CDN $34.78/pair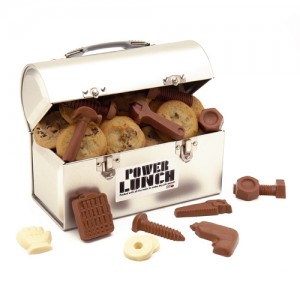 Actually, I just want more chocolate!
Impress your mates with this power lunch! It's a reusable retro style lunch box filled with chocolate chip cookies and milk chocolate tools! It's OK to share: after this sugar-buzz, there'll be no holding anyone back!
US$49.99 each