canadiancontractor
5 tips for a seamless composite deck installation
Renovation Contractor
How-to
Resources
Jase DeBoer, Senior Category Marketing Manager at Deckorators, offers five tips to ensure you achieve a seamless composite deck installation to create a beautiful build for your client.
This is a sponsored post by Deckorators.
---
Designing and installing an extraordinary deck can be a challenging job but it doesn't have to be. To take your projects to the next level, Jase DeBoer, Senior Category Marketing Manager at Deckorators, offers five tips to ensure you achieve a seamless composite deck installation to create a beautiful build for your client.
Choose the right decking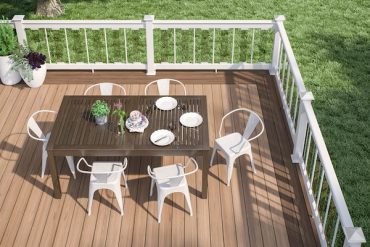 Selecting the appropriate deck materials will be top of mind for your client. As a first step, you will need to identify what material will work best for the project, environment and your client's needs. Depending on the project, consider the benefits and features of the following materials. Regardless which technology you choose, keep boards outside on the job site for at least 48 hours before installation to allow the boards to acclimate.
Wood Plastic Composite (WPC) is a durable product and often has the lowest price point. As it contains wood, you must be aware of moisture-related issues, so consider other options for pool decks or rooftops.
Polyvinyl chloride (PVC) is another durable product and contains no organic material. Compared to WPC, it often sits at a higher cost but comes with an increased warranty. PVC is flexible so it can accommodate curved designs but has some limitations like chalking and is very susceptible to thermal movement.
Mineral-Based Composite (MBC) provides many of the positive features of WPC and PVC while addressing some of the limitations. Deckorators MBC decking is strong, lightweight and provides the lowest thermal movement. In particular, Voyage decking delivers a combination of stability and durability with the industry's best strength-to-weight ratio and virtually no thermal expansion or contraction. It is ground and water safe, making this product ideal for docks or pool decks. It also has 34 per cent or greater surface traction when compared to leading PVC decking and is backed by industry leading warranties.
Find the right pattern
Inspire your clients beyond single colour palettes and basic deck patterns. There are many ways for builders to incorporate patterns that improve aesthetics and functionality by way of the installation. With patterns, you can add dimension by combining colours to enhance the deck design. Picture framing is functional as it conceals the cut ends of deck boards while providing a clean finish to the deck – consider using 7.25" wide decking for a picture frame that is visually appealing and also allows a railing base to sit on one perimeter board.
Breaker boards are an aesthetically pleasing option that avoid butt joints. If decking is shorter than the length of a deck, running a perpendicular breaker board down the centre will allow decking to be installed on either side of the breaker while avoiding unsightly butt joint seams where two boards come together. Other creative patterns include hexagons, herringbone, double picture framing, or cutting in a custom inlay design.
Frame for the design
Whether a client desires a minimalistic or more complex design, it is important to plan the framing for the pattern and add blocking to support the design. Make sure joist spacing is appropriate and add blocking under picture frames, breaker boards and custom inlays. If installing decking on an angle or in a herringbone style, ensure joist spacing is tighter to accommodate the deck span on an angle. Consider using joist tape like Deckorators Joist & Flashing tape, helpful for the entire frame, but especially useful on stairs and areas where you flat block to accommodate patterns or the installation of railing posts.
Maintain consistent board spacing
Checking for board spacing consistency every few boards is crucial. Boards that are spaced inconsistently, no matter how minor, will be a visible issue in the final product. Depending on the board type used, spacing boards will be important when considering thermal movement. Using a product like MBC mitigates this situation as thermal expansion is virtually nonexistent.
Work with Hidden Fasteners
Hidden fasteners create a clean look and will protect your client's socks or bare feet when on the deck. Used on a variety of deck materials, including composite, hidden fasteners are specific to deck boards so make sure to verify the fastener is compatible. Deckorators has created the ultimate system with its Stowaway™ hidden fasteners, it's designed for faster installation by discreetly securing deck boards to joists using the slotted edges of decking. These fasteners are preloaded with screws, automatically spacing boards at proper intervals, and eliminating the need for predrilling and countersinking. For stairs and performer boards where hidden fasteners can't be used, Deckorators created the Pro Plug® System to discreetly camouflage screw heads.
To accompany its innovate products, Deckorators offers a Certified Pro Program to help contractors get training, earn rewards and grow their business. Certified Pro contractors have access to resources and product promotions and the advantage of partnering with innovative products and industry-leading warranties.